E-BIKE SUNSET on the beach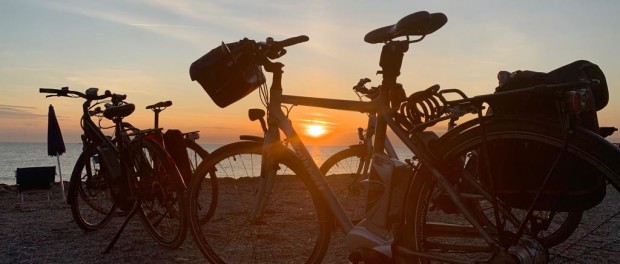 Bike Tour on the beach at Sunset with aperitif 
DISTANCE: about 25 KM
BIKE: MTB- TREKKING BIKE-E-BIKE
Possibility Bike Rent at a trusted store
COMPULSORY RESERVATION
Minimun 4 Person 
INFO:
E-mail: info@tuscanylovebike.it
Tel.: 3392100298
Disclaimer

Clausola di esclusione di responsabilità

Andare in bicicletta può essere pericoloso. Per questo motivo i proprietari e i contributori di questo sito, pur facendo il possibile per mantenere la massima accuratezza e affidabilità delle informazioni, non accettano alcuna responsabilità riguardante errori, omissioni, correttezza dei percorsi gps, date di eventi, indirizzi di strutture ricettive e ristoranti, e qualunque altra informazione contenuta in questo sito.

Lo staff di tuscanylovebike.it non è inoltre responsabile qualora accadessero incidenti sui percorsi suggeriti, inclusa la perdita totale o parziale di equipaggiamento o danneggiamento alla vostra bicicletta. Siate sempre consapevoli del vostro livello di allenamento e seguite i consigli utili e i suggerimenti contenuti su tuscanylovebike.it per pedalare sempre in assoluta sicurezza.

Lo staff di tuscanylovebike.it si riserva il diritto di modificare o aggiornare i contenuti del sito web, inclusi percorsi e le relative descrizioni, in qualunque momento e senza nessun preavviso. Ci scusiamo tuttavia degli inconvenienti che potremmo causare.
Disclaimer

Disclaimer

The owners and contributors of this site, while doing their best for the reliability of the information, do not accept any responsibility for omissions, errors, addresses of erroneous accommodations, events and any other information on this site. Also the Tuscany Love Bike staff is not responsible for accidents on suggested routes, including loss or damage to your bicycle and reserves the right to modify or update the website at any time without notice. Always follow our advice and suggestions. Thank you.